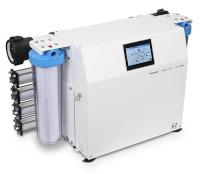 The new Dometic XZ Series of compact watermakers enables boat owners to automatically purify both seawater and fresh water with a single, compact machine.
The unique system combines the benefits of an on-board Sea Xchange watermaker and a Spot Zero fresh water reverse-osmosis purification system for pure water anywhere in the world.
Significantly reducing space requirements, installation time and the cost of buying two separate systems, the unified Dometic XZ system shares one frame and one controller and is available in four sizes.
Water is passed through the Sea Xchange side of the system first, making potable fresh water from seawater before feeding it to the Spot Zero system. The second pass through the Spot Zero unit further purifies the fresh water by removing 95-99% of total dissolved solids. The ultra-purified water is then sent to the vessel's storage tank.
The combination unit can be operated as independent seawater and fresh water reverse-osmosis systems if required.
Steve Morris, Director of Marine Sales & Engineering – EMEA, Dometic, says, "Our new XZ range is effectively two systems combined into one. For anyone considering a seawater and fresh water reverse-osmosis system, this option saves significant space and cuts the cost and time spent on installation."
After passing through a Dometic Spot Zero system, the boat's fresh water system will typically be down to a range of about 15 to 20 ppm (parts per million) of total dissolved solids, whereas typical seawater contains about 35,000 ppm. This means boat owners can enjoy ultra-pure fresh water for drinking, ice-making, cooking and bathing – whether they are out on the ocean or in a marina. The purified water is ideal for spot-free cleaning of boat interiors, as well as external washdowns. Low ppm water means the freshly-washed hull can be left to simply dry in the sun, with no need to chamois or dry by hand. In addition, sinks, stainless taps, toilets, water solenoids and shower screens all remain in perfect "as new" condition.
The Dometic XZ features a one-touch fully automatic system and a touchscreen with graphical display for easy operation. The unit uses condensed filtration with high-capacity filters which are changed less frequently and has an integrated sound shield to minimise operating noise.
The four XZ models produce volumes of purified water from saltwater/fresh water of 4,542/7,571 LPD up to 8,328/11,356 LPD.