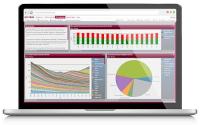 For the first time, Douglas-Westwood, an Energy Software Intelligence Analytics (ESIA) company, will grant online access to its renowned proprietary data, insights, and forecasts. Sectors allows users to interrogate, screen and visualise oilfield services intelligence. The service also provides users with insights and intelligence that helps contextualise the impact of market moving events on their own Sectors and businesses.
Backed by a global team of analysts, Sectors challenges conventional thinking and helps firms, investment bodies, equity partners and governments to develop ambitious and effective strategic plans. Research Director, Steve Robertson who leads the Douglas-Westwood team, explains, "After a great deal of hard work in 2016, we're excited and very pleased to kick-start the New Year with the launch of Sectors. Sectors is a new service designed to provide customers with access to timely, accurate and relevant market insight and reflects the need to support critical planning and investment decisions for businesses in challenging and changing market conditions."
He adds, "Our aim with Sectors is to connect people to expertise, insight and resources to improve efficiencies, reduce costs, make educated decisions and accelerate capital projects. A key benefit of Sectors for subscribers is that they no longer need to answer difficult questions in isolation. The granularity of Sectors' data is blended with the consulting and analytical expertise of our team to validate strategic decisions."
Importantly, Sectors removes the "fear factor" from complex projects by helping individuals, teams, and organisations to answer the many challenging questions involved in planning and financing modern day oilfield infrastructure projects in a global marketplace.
Clients in early beta-testing have been using the advanced front-end built into the analytics tool to filter and pivot the data both at a high level, for business planning purposes, and to drill-down to specific project opportunities for business development purposes.
Sectors also makes sharing and collaborating easier as only a single user-licence is required for everyone in the company to access timely and relevant information. The first Sectors module focuses on the global drilling and production Sector, with additional modules to be rolled out in coming months.