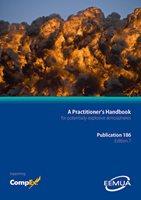 EEMUA, the Engineering Equipment and Materials Users Association, has published the seventh edition of EEMUA Publication 186 – A practitioner's handbook for potentially explosive atmospheres.
EEMUA 186 offers guidance for safe installation, inspection and maintenance work in potentially explosive atmospheres, in such areas as petroleum and petrochemical plants, processing industries, power plants, fuel filling stations and more, when the failure to adopt safe working practices could result in the ignition of flammable gases or combustible dusts.
The new edition has been updated to align with the latest versions of the relevant standards, in particular the fifth editions of IEC 60079-14 and 60079-17. The chapters on equipment, installation and inspection in particular have been revised extensively, including EEMUA's recommendations on barrier gland selection.
EEMUA 186 is closely associated with the CompEx® training and competency assessment scheme which provides trainees with essential knowledge and practical skills for safe working in potentially explosive atmospheres.