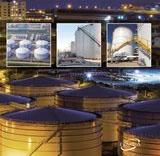 EEMUA has published a new edition of its recommendations for refrigerated liquefied gas storage tanks.
The purpose of EEMUA 147 is to supply the outline information necessary for the categorisation, inspection and maintenance of single, double and full containment tanks for the bulk storage of refrigerated liquefied gases down to -165°C, and essentially at atmospheric pressure.
Liquids covered by the scope of EEMUA 147 include liquefied petroleum gas (LPG), ethylene, ethane, liquefied natural gas (LNG) and similar hydrocarbons, together with ammonia.
As well as an improved structure, new content in this second edition include expanded chapters on tank commissioning, operations and decommissioning, plus a new chapter on maintenance and inspection.