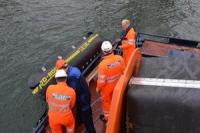 DESMI has introduced a new oil spill recovery product, RO-Vane, combining it with a DESMI SpeedSweep boom and RO-Skim skimmer to make cleaning up spills with just one vessel far easier, faster and more cost-effective.
One system does it all Every now and then, something comes along that makes a real difference to the way an industry works. The latest addition to the portfolio of oil spill recovery solutions from market leader DESMI is one such product.
Christened "DESMI RO-Vane", the new acquatic device, which is designed to replace the functions of a second vessel, has been eagerly anticipated by DESMI's customers. In fact, RO-Vane can turn single-vessel oil spill recovery from a last-resort, difficult-to-handle alternative into the first choice for a wide range of spill situations. And, together with other products in DESMI's oil spill recovery portfolio, it boasts a long list of advantages to back such a claim.