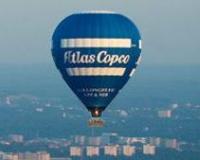 Atlas Copco unveils the latest GA 90+-160 range of oil-injected rotary screw compressors, designed to reach new productivity levels and reduce operating costs.
The patented screw element is packaged in a new enhanced design which improves the performances by up to 5% compared to the previous generation. New innovative features help to increase the availability and durability of the compressors.
Thousands of Atlas Copco GA air compressors are operating around the globe in applications like power plants, mining, cement, glass and metal industries.