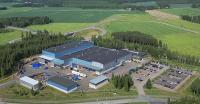 Pemamek Ltd., welding and production automation company, plans to expand its production premises in Loimaa, Finland. While Pemamek's global demand is increasing, especially in North America and Europe, and expectations in international markets are looking positive, the investment in new facilities is necessary. The new facilities will enable Pemamek to improve its laser welding solutions and big intelligent robot system deliveries.
"We are prepared to add our capacity due to increased demand of automation. Additionally, according to our new business strategy our goal is to grow," says Pekka Heikonen, Pemamek Ltd. CEO.
Construction will start in May 2016 and is expected to be ready by the end of the year. The current factory will undergo an expansion of 3,000 m2. When ready, the total size of the factory building will be 16,000 m2.