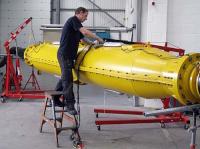 Power CSL, subsea cable accessory specialists, has launched a high voltage jointing system that will drastically reduce the cost of repairing subsea cables in the offshore renewables as well as oil and gas sectors.
The joint, unique in its design, is suitable for the offshore repair of a wide range of high voltage subsea cables. It takes 48-60 hours to install, considerably less than most other systems, cutting down the waiting time for a suitable weather window and repair vessel time on station.
Pat Oakley, director, says, "Several years of research and analysis have gone into developing this joint, which has many advantages over other repair solutions, particularly in terms of cable range-taking capability and ease of installation. The jointing system is not associated with the cables of any particular manufacturer and its modular design can be configured for a wide range of connections. This product will substantially increase the UK and European supply chain capacity for HV subsea cable repair, improving the availability of trained jointers and radically reducing the time it takes to repair faults on critical subsea power connections."
The Power CSL joint, which can be used for repairing subsea cables up to 170 kV, has successfully completed an extensive mechanical, electrical and hyperbaric test programme meeting CIGRE 490, 171 and 623 regimes, and IEC specifications. The electrical type test was carried out by the KEMA laboratory, with the complete test programme being witnessed by DNV GL.
The joint uses high tensile strength compression conductor connections. Its insulation system comprises a one-piece cold-shrink moulding with internal stress control features, developed by 3M and selected by PCSL for subsea application following close technical collaboration. All mouldings are fully electrically tested (HV and PD) during manufacture.
The combination of single-piece construction and simple shrink-down technique removes the potential for assembly problems during installation that may arise with some multi-component joint insulation reinstatement systems.
No special tools are required for the repair joint installation.