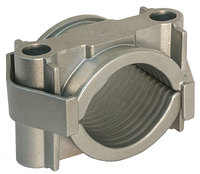 CMP Products has launched a range of fire resistant cable cleats which have been engineered and tested to withstand temperatures as high as 1,000° C (1,800° F).
Two of the new products, named Themis and Solace, have been designed with a unique twin arc patent-pending internal design profile, offering extreme axial and lateral load retention.
Fire tested to the highest industry standards, including AS 3013, BS 5839, EN 50200 and BS 8434, the new products have been specifically engineered for use with fire performance cables, to ensure the safe retention and securing of cables in the event of a wiring system being affected by fire.
Available in cast stainless steel, and fabricated stainless steel, the one and two-bolt cleats have been rigorously tested and provide superior corrosion resistance, making them suitable for both indoor and outdoor applications.
Cable Cleat Product Manager, Chris Wright says, "As the use of fire-resistant cable systems for life safety and fire-fighting applications has become almost every day use, the focus of other equipment within the cable management is more pertinent today than ever before. In the event of a fire, if cables are not properly secured, the risks to both life and infrastructure are obvious; which is why we have designed our latest range of cable cleats to surpass even the most stringent requirements, ensuring circuit integrity under fire conditions are maintained more securely than ever."
CEO, Vince Patterson, adds, "CMP is continuing to invest in research and development, in order to engineer and manufacture even better product choice for our customers when it comes to the safety of electrical systems. The fire-rated products are an extension to our current range of cable cleats and we are already at an advanced stage with a number of product developments due for release next year."