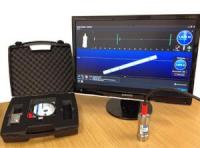 A ground-breaking underwater Flooded Member Detection (FMD) system has been launched today by Impact Subsea in collaboration with Unique Group.
The ISFMD offers a significant advancement in flooded member detection, providing a new level of clarity in non-destructive testing for the presence of water in underwater structures.
For use by divers or ROVs, water level, depth of reading, position of the sensor probe and temperature of water are all monitored and recorded. With 1-mm accuracy and a range in excess of 100 metres, the ISFMD system provides an exceptionally high accuracy reading.
An advanced software suite provides a visual indication of all sample points along the underwater member or structure being surveyed. Upon completion of the survey, the software automatically generates a survey report with all recorded readings.
Following collaboration in the development of the system, Unique Group has been appointed as exclusive rental partner for the ISFMD system.
Commenting on the launch of the new system, Andy Doggett, Survey Equipment Divisional Director, Unique Group, states, "We are delighted to collaborate with Impact Subsea on this exciting new FMD system. Following significant investment in Impact Subsea Altimeters, Depth Sensors and FMD systems we are able to meet customer demand for the latest underwater technology."