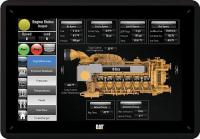 Caterpillar Oil & Gas has announced the next generation of operator interface displays for Cat® gas compression engines. The newly designed displays provide for complete engine monitoring of important engine parameters and conditions on an intuitive colour touch-screen. In addition, these capabilities provide complete engine set-up and tuning, eliminating the need for a computer based service tool for typical start-ups and maintenance. These capabilities reduce the complexity of setting up engines in the field giving operators convenient access to the information needed to maximise up-time. The user-friendly displays connect to Caterpillar and customer control systems or SCADA systems via a Modbus interface – allowing for convenient interfacing of systems.
"This announcement furthers our breadth in the technology and digital space," says Dave Dunlevy, general manager of Caterpillar Oil & Gas. "Last week we announced the acquisition of M2M Data Corporation which will greatly increase the number of connected assets – accelerating our Cat® Connect strategy to get customer assets connected. Today's announcement is another advancement in developing smart iron and digitally connected assets, providing our customers a complete solution to help them succeed."
Historically, when fleets moved from one site to another, the equipment often needed to be reconfigured, requiring a laptop to set up the engines. With the new generation of displays, our customers will have the ability to easily install and trouble shoot without any additional hardware. Customers will also have the ability to perform Cat® Electronic Technician functions on a common engine interface throughout the gas compression platform. The displays will be available in various sizes, with the first being a 15 inch display, to be released in 2016 for G3600 A4 engines. Additional displays will become available in 2017.