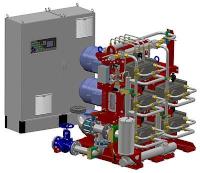 Marioff Corporation Oy has announced the launch of a new HI-FOG Electric Pump Unit (EPU) for the high-pressure water mist fire suppression segment. Incorporating closed loop pressure control, the EPU revolutionises pumping technology for high-pressure water mist technology. Marioff, a developer of the water mist fire protection technology, is a part of UTC Climate, Controls & Security, a unit of United Technologies Corp.
Different from industry-standard pump design, the EPU's advanced control system ensures that the pump unit provides only the required pressure and flow. Pressure optimisation is achieved with an advanced software control and a frequency converter. Excess water unloading is no longer needed, which simplifies the mechanical design of the pump skid. The pump unit incorporates many built-in redundancies, including activation and pressure control, to ensure operational reliability.
The EPU is equipped with a user-friendly interface that provides a real-time status of the pump unit and the HI-FOG system, alarm and help information, maintenance reminders and event history ensuring efficient and optimised maintenance activities.
The EPU consists of a modular pump skid and separate control cabinet. The modular structure together with practical service access enables flexible installation and optimised use of footprint. Different configurations can be put together depending on the system capacity requirements.
"Our state-of-the-art pump technology keeps Marioff in the forefront of the technical development of high-pressure water mist solutions," says Isto Hantila, managing director, Marioff Corporation Oy.
"The EPU is the new core of the HI-FOG system that will provide an excellent platform for taking new features like remote monitoring in use to improve the maintenance and servicing," says Markku Vuorisalo, director, engineering, Marioff Corporation Oy.