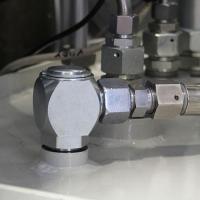 Stauff is adding male stud swivel elbows to extend its range of tube fittings. These connecting elements feature an additional axis of rotation in the connector and introduce continuous freedom of movement into the hydraulic line – for instance at the hydraulic attachments of construction machinery or the articulated joints of wheel loaders – further increasing the leak safety of the hydraulic system.
The compact design of the FI-DGWESV swivel fittings was designed precisely for this kind of application: they compensate for regular or irregular rotating, pivoting or oscillating movements between the line and machine component during operation, for instance for the tension-free connection of pressurised hose lines equipped with connecting fittings incorporating a sealing cone connection in accordance with DIN 3865. They also prevent torsion being generated and extremely tight bending radii on moving hose lines.
From the outset, users of the new range, part of the Stauff Connect series, can take advantage of a comprehensive range. The connection on the one side of the swivel elbow is always a 24° inner cone (form "W" as per DIN 3861) in sizes 6L to 42L (Light Series) and 6S to 38S (Heavy Series). The opposite side can either be fitted with a Whitworth pipe thread (G1/8 to G1-1/2) or a metric thread (M10x1 to M48x2) with a profiled seal. NBR (Buna-N®) is used as the standard sealing material, although alternative materials as well as different connection versions are available on request.
The rotating movement is provided for by a self-lubricating slide bearing, which uses the system fluid as lubricant, making the bearing completely maintenance-free. The maximum permitted number of rotational movements in continuous operation depends on the size. Stauff would be happy to assist with the selection of the correct components for a specific application based on the general framework conditions.
The new swivel fittings are designed for an operating pressure of up to 400 bar (with a general safety factor of 2.5 and depending on the series and size of the fitting body). Like the complete Stauff fittings range, they boast a high-grade zinc/nickel coating, which meets the most exacting requirements in terms of corrosion protection and appearance.