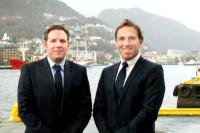 Two recognised industry experts have risen to the challenge of a low oil price by joining forces to officially launch Vinstra - an energy-focused advisory company, providing valuable, insightful and strategic support to businesses in the UK and Norway.
Subsea and offshore business veterans Duncan MacPherson and Ciaran O'Donnell have identified the need for an industrial expert to support companies in the North Sea with key boardroom decisions. The company will specialise in value enhancement with a niche focus on the energy service sector.
Together, Duncan and Ciaran bring more than 30 years' of practical experience in the oil and gas industry and have a record of leading and managing businesses in the sector through various phases including growth, mergers, acquisitions and restructuring.