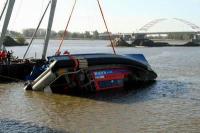 The latest rescue vessel commissioned by the Royal Netherlands Sea Rescue Institution (Koninklijke Nederlandse Redding Maatschappij, 'KNRM') has passed one of the most important trials it had to pass at Damen Shipyards Group in Gorinchem before being entrusted to its crew. The capsize trials had to show that this youngest generation of rescue vessel is actually capable of righting itself. In four different tests, the rescue vessel righted itself to its normal position within a few seconds of capsizing. A life-saving feature in extreme conditions.
The KNRM's rescue vessels, which have to be deployable in all weather conditions, are being designed to the most rigorous standards. Seakeeping and stability are the most crucial factors in safety. For the crew, however, comfort and user-friendliness are also key features.
This NH1816 19-metre-long rescue vessel combines all of the technical, ergonomic and operational features the KNRM wanted in a remarkable new design.