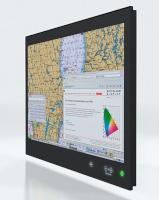 Hatteland Display, global provider of display and computer solutions for professional maritime use has added four new sizes to its innovative second generation Series X Panel Computers portfolio. Integrating powerful Intel Skylake processor-based computers, high quality display technology and advanced video processing, Hatteland Display's second generation Series X Panel Computers are the most powerful all-in-one computer/display solution available for maritime technology manufacturers and systems integrators available today.
With new 27, 26 and 24 inch configurations, second generation Series X Panel Computers are now available for a diverse range of applications. The large format models are especially suitable for the new wave of modern Integrated Bridge System designs created to accommodate a new data-centric approach to vessel navigation and safety. With powerful computers integrated in the display housing, bridge system designers have unmatched flexibility to create far more ergonomic layouts, which are easier to install due to significantly reduced cabling requirements.
The integrated nature of Hatteland Display's second generation Series X Panel Computers also enables tangible cost savings for equipment manufacturers and systems integrators. Hatteland Display's new Panel Computers provide the same power and picture quality as a standard display and separate PC configuration, but with lower capital expenditure (relative to purchase of separate displays and computers) and installation costs, they can be used as the basis of cost reduction programs. This makes it possible for technology integrators to continue improving vital bridge applications while still retaining focus on cost for their partners and end-customers.
The expansion of the second generation Series X portfolio to include larger Panel Computer models provides more flexibility for equipment manufacturers to utilise the most powerful computers and highest quality displays in a wider range of vessel technology, especially on the bridge.
"Second Generation Series X Panel Computers are a robust and cost effective platform from which to run multiple applications and display and manage data on the bridge, or anywhere on board," says Trond K. Johannessen, President and CEO, Hatteland Display. "Our latest panel computers are our most advanced to date. They harness the power of Intel's tried and tested Skylake processors, providing a cost-effective platform for innovators to develop new solutions that make controlling ships and the technology on board, easier, safer and more efficient."