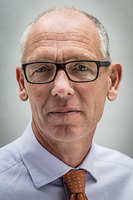 Frank Ketelaars took up the position of Director of Region Americas in DNV GL – Oil & Gas on 1 October, as North America's energy system undergoes a transition.
Ketelaars brings a wealth of relevant experience to his new role; from both within DNV GL and outside the company. In his previous role, he was responsible for DNV GL's risk advisory operations in the UK. Frank joined DNV GL in 2005 through the acquisition of Jardine and Associates, where he specialised in asset performance and availability analysis. He worked for Shell UK Expro as a subsea and pipeline engineer prior to his ten-year career at Jardine. Ketelaars holds a Master of Science degree in Electrical Engineering from the Technical University of Delft in the Netherlands.
DNV GL's recently published Energy Transition Outlook shows significant shifts in US federal energy and climate change policies. Commenting on his appointment, Ketelaars says, "DNV GL has delivered some of the oil and gas industry's most progressive and technically complex projects across the Group's regions. In my new role, I look forward to leading a team who will continue to help give our customers the support and foresight they need to succeed during the substantial changes we foresee over the next few decades."
Reducing dependence on imports is a key driver for the energy transition in North America. Large shale gas reserves have enhanced energy security, enabling the substitution of coal-fired power plants with gas-fired capacities and complementing the shift to renewables. Liquefied natural gas (LNG) terminals will diversify sources of import and boost exports. Unconventional onshore gas will retain an important share of supply in North America, with production increasing towards 2025 and then declining slightly until 2050.
"With gas demand set to persist, there will be increased costs and activity relating to pipeline systems in North America to ensure their safety and security. Older pipelines will also continue to be repurposed due to shifts in where gas is produced and consumed," says Ketelaars.
"Leading gas transmission system operators will progressively incorporate advances in artificial intelligence, augmented reality, the industrial Internet of Things and machine learning into systems and processes. This will assist them in operating networks safely and cost-efficiently, and in providing customers, regulators and partners with tailored analyses of large volumes of data," Ketelaars adds.