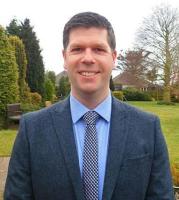 Conductor Installation Services Ltd (CIS), an Acteon company that provides hammer services to install conductors and drive piles, has announced that James Chadd has been appointed Managing Director. As of 1 April 2016, Chadd will be responsible for overseeing the fulfilment of all strategic initiatives, as well as driving day-to-day execution of business globally.
"Having worked with James since founding the company in 2005, I am extremely confident that he will continue to build upon CIS's solid track record of achievement and service excellence," says Andy Penman, outgoing Group Managing Director of CIS. "In addition to his valuable skill set and in-depth knowledge of the global conductor- and pile installation industry, his commitment to the growth and development of CIS makes him the ideal choice for this leadership position."
Prior to his promotion, Chadd served as Group Technical Sales Manager for the past eight years. During this time he carried out business development and technical sales outreach in Europe, Sub Saharan Africa and the Middle East. Previously, he worked as Offshore Conductor Installation Supervisor before being promoted to the post of Technical Sales Engineer in 2006. Before joining CIS, Chadd worked as a Conductor Installation Engineer in the field – both onshore and offshore – installing conductors and piles around the world for nearly four years for BJ Tubular Services.
CIS, a member of Acteon's Conductors, Risers and Flowlines group, provides conductor and pile installation services associated with construction projects carried out in the global oil and gas industry. These services are carried out both onshore and offshore to, for example, create foundations for new wells, platforms, bridges and jetties.