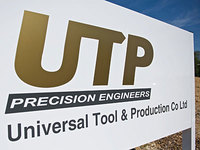 Universal Tool and Production Company (UTP) has announced that Martin Todd will take over from David Ferris as Managing Director, following Ferris' retirement in October 2017.
Todd joined the UTP Team as Business Development Manager in May 2017, from H+S Aviation Ltd., the military and commercial aircraft engine repair and overhaul business located in Portsmouth. During his 21 years there, Martin served as the business leader of the Propeller, GE and Field Services Programmes.
With over 30 years' experience in the Aerospace Industry as a business leader, Todd is keen that UTP continues to be a supplier of choice for its core business in oil & gas and aerospace, as well as branching out into new markets such as rail, military, health, automotive & marine.
Todd says, "UTP is known for its excellent customer service and product quality, and I intend that it remains the supplier of choice to many major Tier 1 customers. With the recent move to new, purpose-built premises we have the opportunity to grow our customer base, with new technology and equipment, as well as reorganising the team to ensure even greater customer focus and service."
Martin Todd is a corporate member of the Chartered Institute of Purchase & Supply, is a certified Six Sigma Blackbelt and is Business Management qualified from Duke University, North Carolina.