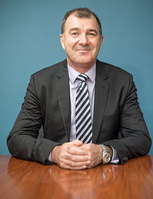 Flow assurance and production optimisation specialist, ClearWELL Oilfield Solutions, has appointed a managing director as the company looks to increase its international footprint.
Alasdair Fergusson brings more than 25 years of oilfield management and marketing experience to ClearWELL, having worked for major service companies in Europe and the Middle East. Most recently he held the Paris-based position of Business Manager Europe and Africa, Production Technologies at Schlumberger's M-I SWACO, where he led and grew business capability in new markets.
Before joining Schlumberger, Alasdair was Director Eastern Hemisphere, Engineered Chemistry for Weatherford, based in the UAE, where the team delivered its largest ever contract win. As well as diversifying the business and delivering strategies for growth, he was also responsible for managing the ClearWELL product line, then distributed exclusively by Weatherford. This was preceded by a 10-year stint at Baker Hughes in production chemistry, drilling fluids and completion tools businesses with a sales and marketing focus.
The appointment follows FrontRow Energy Technology Group Limited's recent acquisition of 50% of ClearWELL from previous owner MSL Oilfield Services, which retains the remaining 50%.
ClearWELL is a non-intrusive scale control technology which uses pulsed, high-frequency signals to prevent the formation of mineral scale in oil wells and process systems. ClearWELL's innovative, low-cost, chemical-free solution has significant growth potential in an oil and gas market demanding cost-effective flow assurance.
Commenting on his appointment, Fergusson says, "I am delighted to be appointed to lead ClearWELL at such an exciting time for the business. This technology can deliver huge value to oil asset operators as there's no risky intervention to the well and no chemical hazard, discharge or pollution. ClearWELL offers a step-change in treatment cost for a huge number of wells world-wide and we now have a business totally focused on delivering this technology."
"World oil production is at an all-time high and we produce seven times as much water from these wells as oil, so the demand for cost effective handling of the scaling problems in that water is huge. It is important that we are equipped to meet this demand and maximise these opportunities and this is where ClearWELL will deliver value. The FrontRow group is building a fantastic brand with an enviable collection of experience. I'm very much looking forward to working with the FrontRow team and benefitting from the experience that MSL bring," adds Fergusson.
FrontRow chief executive Stuart Ferguson says, "Alasdair's appointment is a significant boost not only to ClearWELL, but also to the wider FrontRow group. The results he has achieved throughout his career to date are impressive and the experience he brings to our team will be extremely valuable moving forward. Alasdair is the first appointment for ClearWELL post acquisition, however we expect to see staff numbers continue to increase as the company fulfils its high-growth potential and deploys more units in the field. We have set ambitious targets, and are confident these targets will be met under Alasdair's leadership."
Martin Clark, managing director at MSL Oilfield Services, adds, "Alasdair's experience in the oilfield industry, combined with his motivation and drive, makes him the ideal candidate to lead ClearWELL successfully. We are delighted he is now part of the team."