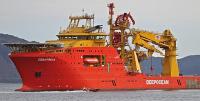 Designed and built for the Greater North Sea market, new offshore construction vessel, Edda Freya uses a Corvus Energy ESS (Energy Storage System), an environmentally friendly and fuel saving diesel electric hybrid propulsion system.
The subsea construction vessel was designed with a focus on cable laying operations, offshore construction and IMR operations. The vessel's first mission will be with DeepOcean, performing installation work for Statoil on the Maria development in the Norwegian Sea and specifically, the modification of the Statoil platforms Kristin and Heidrun. Such critical and high precision work will be made possible by the vessel's highly reliable propulsion and DP3 positioning systems.
The Edda Freya, with a length of 150 metres, a width of 27 metres and 2,300 square metres of total deck space will be a powerful tool in the offshore construction market. The vessel is well equipped for such offshore work with a 150T dual tensioner vertical lay system and a 3,000-tonne carousel situated below deck.
The fuel saving, environmentally friendly propulsion system (Siemens BlueDrive PlusC) was implemented by Siemens in co-operation with Østensjø Rederi. By using variable rotational speed with optimal operation of the diesel generators in combination with the Corvus ESS, the system will significantly reduce fuel consumption and the emissions of nitrogen oxides (NOx) and greenhouse gasses (CO2/methane).