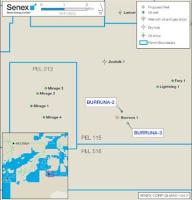 Senex Energy Limited advises that the Burruna-3 oil well successfully appraised the Namur Formation intersected by the Burruna-2 discovery. Further, the well also encountered an additional oil accumulation in the previously untapped lower Birkhead Formation.
Drilling of the Burruna-3 appraisal well in PEL 115 (Senex 80%, Orca Energy 20%) commenced on 9 November and reached a total depth of 1,664 metres.
The well has confirmed the structural mapping of the Burruna oil field and intersected the Namur Formation that delivered flow rates of up to 3,600 barrels of oil per day at the Burruna-2 well.
In addition, the well encountered approximately three metres of interpreted net pay in the lower Birkhead Formation. Wireline logging is currently underway to confirm this discovery.