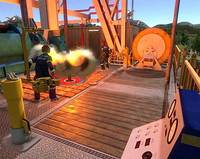 Drilling Systems, experts in simulation solutions, has announced the release of its new On the Rig (OTR) portable work-site simulator package. This advanced simulator provides flexible multi-discipline training modules and many other features to enable comprehensive training, development and personnel assessment in a fully mobile solution.
In an offshore environment, safety is of paramount importance. Operators face the challenge of ensuring skills and competencies are up to date and HSE targets met, while trying to meet increasing efficiency and operational performance goals. The OTR simulator addresses this challenge by providing high quality training without the need to leave the rig. Designed in a modular form, the system assesses and trains at every level of capability and can be used on multiple platform types across various operational disciplines.
The OTR system offers comprehensive training and competence modules for operations including well control, drilling practices, BOP landing, lower marine rising packages (LMRP) disconnects, managed pressure drilling, drill-well-on-sim (DWOS), complex lifts, banksman, human factors/CRM, operational readiness, lifting and deck operations. Highly adaptable and easy to use, it can be used to put theory into practice and verify personnel competence for heightened on-site safety. It contains many years of experience about different scenarios and, as well as keeping personnel up to date with latest operational processes and procedures, enables training for emergency and other abnormal situations without any risk to safety. With 3D simulation and an easy to use learning management interface, the system provides both self-led or instructor supported learning in a way that helps personnel better retain information and learn how to apply theoretical knowledge.
OTR is a highly adaptable simulation platform which combines training on technical and non-technical skills using an easy to use, app-style interface. The simulation platform has integrated competence assessment, which provides both student and instructor with clear progress indicators and feedback. Modules are split into volumes and chapters with pass or fail at each stage to ensure robust learning. To enable well-defined benchmarking and evaluation of skills, the OTR continuous learning, development and assessment capability are mapped against industry standards. Data capture and in-simulation assessment against position specific profiles for different rig roles provide managers with complete evaluation of skills levels and tracking of individual maturity progression.
Ian Hudson, CEO at Drilling Systems comments, "This new package was specifically developed to address the need for high quality training on the rig. From discussions with operators, we are convinced that this is the best way to increase safety with an improved learning experience for rig crews across multiple disciplines. Having this system on site and without the need to engage an instructor, personnel can keep themselves completely up to date with latest practices and skill levels. The integrated tracking within the system also means that managers can easily see and assess skill levels – making the whole skills management process much more efficient."
Ultimately, the OTR simulator package offers a new way for operators to efficiently manage accreditation, competency and value as part of daily operational activities. Without the need to leave the platform, skills can be regularly refreshed and latest procedures or new processes readily learned. Through this more integrated approach to the development and verification of skill levels, the OTR simulator can help reduce risks to safety from human error and enhance individual performance for greater operational efficiency – without overtly impacting on day to day operations.