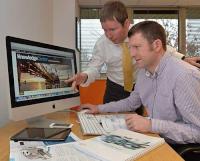 Trelleborg Sealing Solutions has announced a new information hub that has been launched to showcase best practice in sealing technology in a bid to provide "solutions for tomorrow's engineering."
The Knowledge Center by Trelleborg Sealing Solutions was developed to bridge the gap between design engineers' needs and standard technology documentation, bringing useful information together as part of one digital portal.
It is aimed at design engineers working in industries that require sealing technology, including fluid power, the chemical processing industry, oil and gas, automotive design and life sciences.
The website is fully compatible across all platforms including tablets and smartphones – a response to the latest trends, with engineers increasingly turning to mobile devices to find technical support and solutions.
The online tool contains "bite size" information, including technical articles and sealing advice – with the option to download extended articles and white papers. There is also an "ask the experts" section where people can send questions directly to Trelleborg's technical team.
David Brown, Global Director for Oil and Gas at Trelleborg Sealing Solutions, says, "The Knowledge Center is about providing solutions for tomorrow's engineering. This isn't about us showcasing our products, far from it, the Knowledge Center is non-promotional; it is a resource tool for engineers working in highly-technical fields related to sealing."
"We are a world leader in engineered polymer solutions that seal, damp and protect critical applications in demanding environments. This positions us perfectly to share both useful and essential information with engineers working in the same industries as us. We have built up a significant amount of knowledge and information and this is a way of sharing it," adds Brown.
Examples of industry-specific content include an overview of NORSOK standards for engineers working in the oil and gas industry as well as articles, including "Shortening the Design Process through FEA" and "Matching Elastomer Seals to Biofuel Applications".