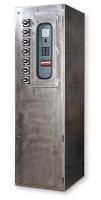 Global provider of power electronic systems and solutions for industrial power supplies and renewable energy applications, AEG Power Solutions, has announced Protect RCS Outdoor Plus, a thyristor-controlled, premium industrial rectifier and battery charger for use in harsh environmental conditions.
Protect RCS Outdoor Plus helps ensure the availability of electrical power for all types of demanding industrial applications such as oil, gas and petrochemical, power generation or distribution, transportation or any critical processes requiring an outdoor solution in a remote area and extreme climatic environment . Its design is derived from the Protect RCS, which already has years of proven track record in the field.
The new system provides highly reliable power and battery charging capabilities. It includes a thyristor-controlled rectifier suitable for charging nickel-cadmium or lead-acid batteries while supplying DC loads, and can also be used without batteries as a direct power supply. For maximum flexibility, the rectifier is composed of independent building blocks and can be supplied with optional equipment as required.
To simplify maintenance and decrease total cost of ownership, the Outdoor Plus has been carefully designed to allow maximum natural airflow cooling, with the rectifier separated from the batteries. It is supplied in a heavy duty steel cabinet, which is IP65 compliant according to IEC 60529.
The new solution has already been proven in the field by Petronash to secure the power supply for gas process skids in a harsh environment. If mains power should fail, the AEG PS systems provide standby power to ensure safe shutdown. In this deployment, the AEG PS equipment is housed outdoors in an atmosphere containing significant levels of highly corrosive hydrogen sulfide (H2S) gas, and must cope with the ambient temperatures of up to 56° C experienced in the desert. The solution also requires a high IP65 ingress rating.
"We developed the Outdoor Plus version of our Protect RCS industrial rectifier/charger as it answers a specific market demand to secure power in extremely harsh environmental conditions and often remote areas, for critical processes," explains Lothar Heinemann, Product Manager at AEG Power Solutions. "Our DC R&D team brought in a wealth of experience, and the product design not only guarantees one of the highest levels of reliability, but also simplifies the maintenance and decreases the total cost of ownership, which is a major concern of our customers."