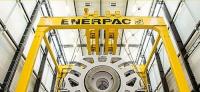 Enerpac and Jørn Bolding A/S have announced a new partnership. Enerpac Heavy Lifting Technology (HLT) is a global market provider of controlled force products and solutions for precise positioning of heavy loads, focusing on providing the most extensive line of products and accessories that maximise force – to increase productivity and make work safer and easier to perform.
Jørn Bolding A/S has delivered quality products for over than 30 years in the field of transport and lifting, and has expanded its services by working in the close partnership with Enerpac HLT. The ultimate goal is to fulfil customer's satisfaction and has therefore partnered with Enerpac – a company with over 1,000 experts.
The partnership with Enerpac HLT would surely help Jørn Bolding enrich and enhance its existing services in heavy lifting technology, as well as introduce newer services, which are an important step for the company to grow in heavy lifting technology, providing safe and high-quality services to customers and clients.
Jørn Bolding, CEO and Founder of Jørn Bolding A/S, comments, "I regard Enerpac HLT as an innovative supplier of high quality heavy lifting and handling equipment."