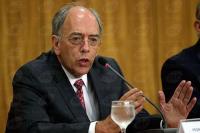 Thursday May 19, Brazil's interim President Michel Temer appointed Pedro Parente as CEO and president of Petrobras, Brazil's state controlled oil giant.
Parente replaces Aldemir Bendine, who was named Petrobras CEO by worker's party (PT) President Dilma Rousseff. Suspended from office last week by the Congress and pending an impeachment trial expected to last six months, few analysts believe Rousseff will regain the presidency.
Under the centre-right government of former Brazilian President Fernando Henrique Cardoso, (1995-2001, PSDB party) Parente served as chief of staff, deputy finance minister and energy minister.
During President Cardoso's administration an attempt was made to privatise Petrobras. At that time the company had an excellent image with the Brazilian population and the attempt failed. Parente also served on the board of Petrobras from 1999 to 2003.
Now, however, Petrobras is mired in a humongous financial and political corruption scandal involving billions of dollars. Federal Judge Sergio Moro leading the "car wash" (Lava-Jato) investigation has jailed dozens of former Petrobras directors, politicians and top executives of construction companies allegedly involved in kickback schemes.
At Petrobras, Parente's most urgent tasks will be to restore confidence in the company and repair its finances after it was forced to write off billions of dollars in alleged bribery payments and overbilled projects.
In a public speech after his appointment, Parente said the acting president had given him a clear remit to change the culture at Petrobras. "There will be no political appointments inside Petrobras," Mr Parente said, referring to a practice that has long allowed the government to meddle in Petrobras' affairs and at times fuelled corruption. "That was a clear request from Michel Temer. That will make my life easier and the board's as well."
Last February, Brazil's Senate approved legislation that relieves Petrobras of its role as sole operator and mandatory stakeholder in the pre-salt deepwater oilfields, potentially allowing the company to direct resources to more profitable operations.
The legislation eliminates the requirement for Petrobras to operate all pre-salt operations and hold a minimum 30% stake in the projects, while giving it first dibs to explore an area if it so chooses.
Of USD 15 billion that Petrobras hopes to raise in 2015 and 2016 in a divestment program, the company has so far managed to raise only about USD 2 billion. Bank of America called Petrobras the "most indebted company in the world".
Petrobras' problems are hampering Brazil on multiple levels beyond scandal and an estimated USD 30 billion in GDP losses. Due to on-going investigations, Petrobras stopped payments to other firms, including rigging companies. That sent some into bankruptcy and others to the brink, a factor that depresses share prices in this year. Associated sectors remain imperilled, including Brazil's steel, construction and banking sectors.
According to government figures, Brazil's economy contracted by 3.8% in 2015 – the biggest annual fall since a 4.3% dip reported some 25 years ago.
Last year, the country's gross domestic product fell to 5.9 trillion reais (EUR 1.4 trillion, USD 1.52 trillion) as the emerging economy was hit by four consecutive quarters of falling output.
With the International Monetary Fund predicting a further decline of 3.5% this year, Brazil appears to be heading into its longest and deepest recession since records were first taken in 1901. Financial analysts dub the situation as a "perfect storm and a meltdown".
Parente will not have only have his hands full but is facing an economic and political nightmare. On the up side is that market sources see him as having the skills and the resolve to give a good shot at improving the company's situation.
He is widely known to Brazilians as the "Minister who fought the blackout", due to his successful efforts during energy rationing in 2001.