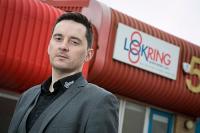 Lokring Northern (UK), provider of advanced fluid and gas transfer connectors, has announced the expansion of its Aberdeen office to accommodate company growth and increasing staff numbers.
The new premises are double the size of the previous Aberdeen headquarters, with capacity for improved training facilities and office space.
Commenting on the company's evolution, Lokring Northern's Technical Sales Manager, Donal Heery, says, "We are successfully implementing our strategic growth plans, which have seen us expand significantly in the past year and outgrow our current premises. Our new office is a purpose-built facility which will offer larger and improved training facilities for our installer training courses and additional space for increasing staff numbers in our offices and workshops.
"We've quadrupled our staffing levels over the past three years which has allowed us to diversify into new markets, as well as geographically. This is an exciting time for Lokring Northern and we recently recruited Kevin McGlade as Technical Sales Engineer for Ireland and Dawn Morris as Technical Sales Consultant for Aberdeen, who will be key to supporting our predicted future growth."
Lokring's technology provides a mechanical method for producing permanent pipe and tube connections and is a safer, faster, lower cost alternative to welded and flanged pipework which eliminates the need for hotwork and the associated health and safety issues.
Donal continues, "We're particularly pleased to have larger training facilities which will allow us to offer more free learning days for our clients. Due to the scale of our product usage, we offer training courses to ensure our clients' pipe fitters can effectively and safely install Lokring fittings and to date, we have trained more than 2,500 of our clients' fitters."