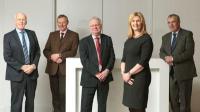 A new private sector led body, focused on ensuring a sustainable economic future for North-east-Scotland, has been launched following extensive consultation with the region's business community and discussion with the public sector.
Opportunity North East (ONE), led by high-profile business figures from across the region, aims to broaden and strengthen the region's economy by investing in and accelerating the delivery of projects of scale and impact through four key sector boards covering Oil & Gas; Food, Drink & Agriculture; Life Sciences; and Tourism.
ONE will provide co-funding and resources to help grow and promote these key business sectors and bring high-impact projects to fruition in partnership with the public and private sectors. ONE will focus on investment and action to stimulate economic growth, safeguard jobs and create new employment opportunities over the medium to long term.