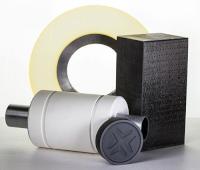 Materia Inc., developer and manufacturer of of catalysts and advanced polymers, is pioneering the next generation of oil and gas solutions with Proxima® thermoset resins.
Proxima resins provide reliable, practical and economical solutions that solve major technology challenges in subsea thermal insulation, subsea buoyancy and downhole tools. Proxima resins are extremely easy to process due to their inherently low viscosity and controlled cure profile. The resulting durable products are ideal for use in extreme environments. Compared with commonly used polymers, Proxima thermosets withstand the most extreme hot/wet conditions and provide excellent performance.
Proxima HTI resins for high temperature subsea thermal insulation provide an effective thermal barrier between high temperature flowlines and seawater. Proxima polymers maintain structural integrity in operating environments at water depths greater than 10,000 ft., and this advanced insulation technology can be rapidly and safely applied in the factory or the field.
Brian Conley, senior Proxima product development manager, says, "Materia's subsea thermal insulation products offer full system integrity for high temperature deepwater environments. The use of Proxima HTI polymers results in lower risk and better reliability for insulation of high temperature subsea flowlines, field joints and equipment relative to the alternative engineered solutions."
Proxima STR thermosets are designed for use in syntactic foams in subsea buoyancy applications. These lightweight materials withstand the severe hydrostatic pressures of deepwater and ultra-deepwater environments while providing substantially improved buoyant support to critical subsea components. Ed Lehman, Proxima product development manager, says, "Proxima STR resins offer reliable manufacturing, state-of-the-art properties and improved long-term performance, delivering benefits throughout the value chain."
Daryl Allen, Proxima product development manager, says, "Proxima HPR casting resins offer thermal stability and toughness with fast and easy polycrystalline diamond compact (PDC) or tricone drillability for many downhole applications. When long fibre composite performance is required, Proxima ACR infusion resins offer exceptional performance with fiberglass and carbon fibre. These bring improved thermal stability, corrosion resistance and reliability when compared to standard composite materials. Both the HPR and ACR systems provide superior materials that solve today's downhole challenges."