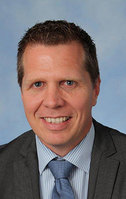 As the global energy transition in the oil and gas industry marks significant changes to come, regional adaptions will pose a broad variation of challenges and opportunities. DNV GL – Oil & Gas has appointed Ben Oudman as Regional Manager for Continental Europe, Eurasia, Middle East, India and Africa to further strengthen the company's efforts to help the industry overcome barriers to progress.
DNV GL's 2017 Energy Transition Outlook report shows that while the energy transition is well underway, oil and gas will likely remain major energy sources for many years to come. DNV GL's report, unlike similar studies, provides a single forecast rather than multiple scenarios for different regions while taking into consideration the diversification of energy demand and supply as well as factors affecting both.
"The future energy mix is likely to look very different from region to region within the geographies under my remit," says Ben Oudman, commenting on his appointment. "In my new role, I look forward to leading an exceptional team of experts who will continue to give our customers the foresight and support they need to succeed in the years ahead."
Elaborating on the differences in the energy markets which now lie under his new responsibilities in DNV GL, Ben Oudman says, "While Western Europe is rapidly embracing the energy transition across the value chain, the focus in Eastern Europe and in Russia is on gas as the fuel of choice, with security of supply a key concern. There we see significant investments in transnational pipeline projects such as TANAP and TAP. In the East Mediterranean, recent developments off the coast of Egypt, Cyprus, Israel and Lebanon are some of the main drivers of oil and gas activities in the area, along with the rise of LNG. On the other hand, the markets in India and Africa are focused on fueling the growing energy needs through challenging deepwater offshore projects and gas to power investments."
Oudman indicates huge potential remains for mid and downstream activities in the Middle East. "As predicted in our Energy Transition Outlook report, fossil fuels will continue to play a substantial role until 2050, with the majority share coming from the Middle East where we see investments returning to both the upstream and downstream segments."
According to Oudman, the changing market conditions have led to an increasingly complex risk environment for its customers. "The need to manage technical, societal and business risks is more urgent than ever. DNV GL has a valuable role to play as an independent technical advisor, helping our customers comply with requirements and regulations. We also help them manage their costs and performance through technology innovation, standardisation and digital solutions." Oudman took up the new position on 1 January. He joins the Executive Leadership Team for DNV GL's Oil & Gas business area, leading a 500-strong team of experts serving a diverse range of oil and gas clients from Portugal in the west to India and Russia in the east. DNV GL's regional head office will remain in Milan, Italy.