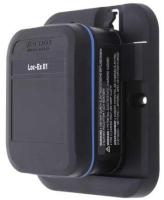 Following its roots and decades of experience, ecom has launched the new Loc-Ex® 01 - BLE Beacon, available for hazardous areas ATEX/IECEx Zone 1 (Loc-Ex 01) and for Non-Ex areas (Loc 01 HC & Loc 01 SC).
Mobile devices have been bringing forth driving progress to many areas of the industry, enabling new ways of working and helping companies innovate by embracing enterprise mobility even in potentially dangerous work environments. However, to be able to remain competitive and reduce operating costs, there is a continuous need to find new routes to innovation. Beacon technology has the potential, for many companies in hazardous areas, to massively improve the way in which they operate, enforce security, provide safety and manage assets.
BLE Beacons are small radio beacons that use Bluetooth Low Energy signals at periodic intervals to provide proximity awareness, whether a device has mobile connectivity or not. The Bluetooth 4.0 standard makes the beacons compatible with currently popular as well as hazardous area explosion-proof tablets and smartphones like the world´s only Zone 1/21 and Division 1 certified tablet, the ecom Tab-Ex® 01, and the world´s first intrinsically safe Android LTE/4G Smartphone, the Smart-Ex® 01.
The Loc-Ex® 01 - BLE Beacon can be recognised by such devices over a distance of up to 200 meters outdoors and up to 30 meters inside buildings. The beacon signals can be evaluated by the mobile device via individual applications and, in this way, interact with the user or other programs. However, it's in the understanding and application of technology, like BLE beacons, that pave the way for companies, firstly, to improve efficiencies by enhancing data accuracy and quality, and secondly, to achieve more effective work and decision making processes by inducing actions, content, messaging, and workflow tools.