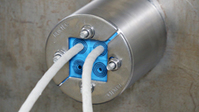 The ongoing modernisation and digitalisation on-board ships, vessels and offshore units require smart solutions for retrofit and upgrades, for example when it is time to install new communication systems. In order to help the marine and offshore industry players handle the demands of the fast development in an efficient way, cable transit specialist company Roxtec presents a new non-weld solution.
The Roxtec SLA sealing solution, which includes well-proven Roxtec R transits or RS seals with newly developed adaption sleeves, simplifies the addition of cables late in a project and enables upgrades and repair work without welding.
The sealing solution is certified for use in A-Class fire rated divisions and ensures water-tightness up to 2.5 bar. It reduces the need for hole-cutting and fixation.
The Roxtec R with SLA adaption sleeve is a round sealing solution for multiple cables in a limited area. The sealing modules adapt to cables of different sizes and can be used to build in spare capacity for further upgrades. The Roxtec RS with sleeve is for single cables of different sizes.
Roxtec SLA sealing solution eliminates the need for welding. It is designed to fit perfectly in standard hole saw openings in the structure in order to simplify and speed up modernisation work.