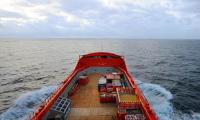 Statoil has decided to alter its sailing routes from the supply bases in Southern Norway to the platforms in the North Sea. The decision is a result of several years' work aimed at optimising use of supply vessels and bases.
The current sailing routes to the platforms in the North Sea from the bases in Florø, Mongstad, Ågotnes and Dusavik largely stem from the days when three different companies (Saga, Hydro and Statoil) operated the installations being supplied. Adapting and streamlining the sailing routes will extract substantial savings, both financially and in terms of the environment. Estimated cost savings are in the order of NOK 250 million per year, along with a reduction in Co2 emissions estimated at 20 000 tonnes per year.
"The changes in the current sailing routes are essential if we are to remain competitive in the time ahead," says head of Logistics and emergency preparedness, Gunnar Breivik. He adds that reducing logistics costs is an important element in extending the lifetime of our operated fields, as logistics costs account for around 10 per cent of the operating costs for an installation.