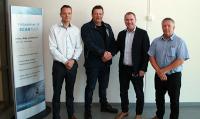 Through mother company  James Fisher Norway, Scan Tech has ensured access to SWT's patented rig cooling technology.
SWT was established in 2010 and delivers rig cooling services to the oil industry from its headquarters in Stavanger.
SWT is a leading supplier in Norway of bespoke rig cooling solutions that protect offshore installations from the heat generated by flares during well testing.
SWT's laptop and desktop systems are built around a customised, patented nozzle. Mounted on the burner boom, the system provides an effective barrier against the heat source, limiting the transmission of heat radiation through the atmosphere and thereby to the rig.
CEO J. Christopher Stevens says, "SWT has a leading technology which streamline rig cooling and is a significant improvement for the environment and safety. This brings a new dimension to Scan Tech support in well testing and we believe our customers will benefit from these integrated solutions."
"For 20 years Scan Tech has been a leading player in the offshore industry and have established and developed several unique products, services and companies. We are now proud to have SWT family," adds Stevens.