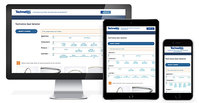 Technetics, a globally trusted source for engineered components, seals, assemblies and sub-systems for demanding environments, has announced its newly released Seal Selector tool. The proprietary online tool quickly and easily determines the right custom-engineered sealing solution(s) based on the world's most demanding environments.
Technetics provides custom-engineered sealing solutions that have proven themselves time and again in the world's most extreme environments. From abradable materials that increase airflow in turbines to inflatable seals that protect process materials and operators in the life sciences, every sealing solution Technetics offers is engineered for safety, performance and durability.
The Seal Selector features a straightforward graphic interface that allows the user to select from six of the most demanding environments. Following market selection, the Seal Selector is designed to be fully flexible, so you can filter your choice based on one or more of the following factors:
Application: Static, Semi-Dynamic or Dynamic
Temperature: Cryogenic, Low, Medium, High or Very High
Pressure: Vacuum, Low, Medium or High Pressure
Leak Rate: Low Bubble, Bubble, Helium or Ultra-Helium
The Seal Selector results will help guide the user toward the right seal for their application. Each recommended seal links to detailed product information and also includes a direct link to contact Technetics with specific questions or comments.
"Technetics is committed to being able to meet the very specific needs of our customers, regardless of how specialised and critical their application may be," says Gilles Hudon, president of Technetics Group. "Our customers can count on us to not only provide them with a reliable, high-performing seal, but with time-saving tools like the Seal Selector to ensure our customers receive the correct custom-engineered sealing solution."