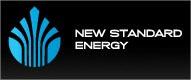 New Standard Energy Limited advises that Mr Greg Channon has offered his resignation as a Director to focus on his other business activities and this has been accepted effective 8th April 2015.
New Standard Non-Executive Chairman Arthur Dixon AM thanked Mr Channon for his contributions to the Board over the past year and wished him well in his future endeavours.
In keeping with the Company's focus on streamlining and reduction of costs and overheads Mr Channon will not be replaced at this time.