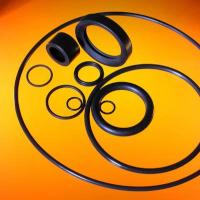 Precision Polymer Engineering has developed EnDura® E90SR, a new EPDM elastomer material that provides outstanding high temperature steam resistance.
EnDura E90SR is available as O-rings, T Seals and custom-molded geometries and is used in equipment such as pumps, valves, turbines, geothermal tools and drilling equipment.
Unlike traditional EPDM materials EnDura E90SR can withstand high temperatures (up to 550˚F) and high pressures, with excellent resistance to rapid gas decompression. These properties make the new material ideal for use in anaerobic high-temperature environments, such as those encountered in geothermal applications and enhanced oil recovery applications.
E90SR is the latest addition to PPE's EnDura range of high performance elastomers specifically developed for high pressure environments. The EnDura range now includes all major polymer chemistries including fluoroelastomers (FKM), hydrogenated nitrile (HNBR), Tetrafluoroethylene/propylene dipolymers (FEPM) and perfluoroelastomer (FFKM).
For further information, visit http://www.prepol.com