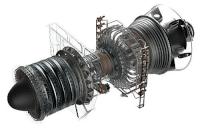 Building on its culture of partnership and co-creation, GE Oil & Gas has introduced two new technologies at the 2017 Annual Meeting, in Florence, Italy: super-efficient gas turbines LM9000 and NovaLT12. These are prime examples of how the downturn has driven focus on flexibility, efficiency and productivity, as well as demonstrated the advantages of cross-industry collaboration.
"The best companies use volatile times as a catalyst to drive beneficial change. We have taken this industry cycle to reflect on what our customers will need in the future and are disrupting traditional product development to introduce smarter and more cost-effective advanced gas turbines that address the industry's greatest needs; reliability, flexibility, efficiency and productivity," says Rod Christie, President & CEO, Turbomachinery Solutions, GE Oil & Gas.
These technologies showcase how GE develops, utilises and optimises the best minds and the best machines to design reliable and effective solutions.
The LM9000 is a 65MW, 43% simple cycle efficiency Aeroderivative Gas Turbine, derived from the proven GE90 jet engine fitted on Boeing 777. The LM9000 delivers 50% longer maintenance interval, 20% more power and 40% lower NOx emissions, resulting in 20% lower cost of ownership for LNG customers. In addition to LNG applications in off and onshore, it can also be utilised for simple cycle, cogeneration and combined cycle power generation.
By leveraging the GE Store – the company's ability to transfer intellect and technology across multiple industries – this application offers high availability and best-in-class total cost of ownership. Dry Low Emissions technology, developed using GE's additive manufacturing capabilities, enables dual fuel capability and lower NOx emission, while eliminating water use in emissions abatement. Ideal for mechanical drive with >99% availability, with 43% simple-cycle efficiency and over 80% efficiency in cogeneration configuration, the LM9000 can deliver a precise, dependable, safe, and flexible energy supply.
Its modular package design enables greater adaptability, shorter manufacturing cycles and faster installation, with lower installed and operational costs than field-erected units. This also contributes to the LM9000's compact footprint, requiring 25% fewer trains, helps meet stringent space requirements, especially for retrofits or smaller new plants, and greatly simplifies balance of plant requirements for both offshore and onshore installations.
GE Oil & Gas has also launched the latest addition to its growing family of heavy-duty gas turbines the NovaLT12 . An efficient, flexible, modular turbine designed for high efficiency and lower total cost of ownership than market peers, the NovaLT12 was developed with a special focus on oil and gas midstream operations — both mechanical drive and power generation — and is well suited to a wide range of upstream and downstream applications. The NovaLT12 leverages the success of GE's NovaLT gas turbines program overall, which includes the NovaLT16 and that of the NovaLT5, designed to meet residential, industrial and commercial customers' needs with a reliable and efficient plug and play solution below 20 MW. With an efficiency of up to 85 percent in cogeneration applications, these gas turbines represent an advanced solution to produce heat and power, and they can increase industrial plant efficiency while reducing NOx and CO2 emissions.
Standardisation and modularisation significantly reduce customised engineering needs, which means faster delivery time (36-week EXW, 8-week installation). The turbine's end burners are manufactured using cutting-edge 3D printing technology at GE Oil & Gas' additive manufacturing facility in Talamona, Northern Italy. After extensive validation of additive during prototyping of the NovaLT16 gas turbine, GE decided to move the technology into full production, leveraging the design enhancement capabilities, cycle time reduction and improved product quality. GE Oil & Gas investment in these technologies reflects the ongoing commitment to combine cutting edge technology and new manufacturing processes to lower cost and accelerate the innovation, speed and performance of industrial products.