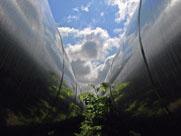 DNV GL Software's new release of Synergi Pipeline software includes Geographic Information System (GIS) integration, providing pipeline operators better analyses and decision-making based on geographically referenced and visualized data via the web interface.
Obtaining and managing correct and valid information about a pipeline's risk and condition, including linked geographic information, is a constant challenge in integrity management. Synergi Pipeline, DNV GL's pipeline integrity management and risk assessment software solution, produces efficient information management and data reliability while providing consistent application of integrity procedures. This gives operators the information they need to make the right decisions, increasing operational efficiency, reducing costs and most importantly supporting the safe operation of the pipeline system.
The new version of Synergi Pipeline (6.2) provides an interface with clear, intuitive visualization both of risk and also technical and operational status of offshore and onshore pipelines. The visualization is even more extensive through integration with the ArcGIS server, allowing the user to work with all pipeline data using a web-based viewer. The tool (EsriViewer) shows a map view of the pipelines with configurable data layers, such as risk, pipeline features, inspection data and analysis results and tools to select and filter the data.