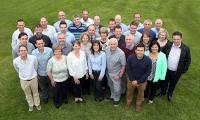 An Aberdeen-based specialist hydrocarbon accounting consultancy has launched new bespoke software that will save oil and gas operators money by replacing more complex generic process simulation packages used industry-wide.
Developed in partnership with Robert Gordon University, Accord Energy Solutions has created CHARM (Compact Hydrocarbon Allocation Reference Model) – a cost-effective process simulation software package which models how hydrocarbons behave specifically for hydrocarbon allocation purposes.
The employee-owned company has designed the new software which focuses on easy integration with any hydrocarbon allocation system.
Phil Stockton, director at Accord, says, "Our innovative tool will save time and money and replace existing industry-wide process simulation software. CHARM delivers faster, more robust calculations than the established approach. Its simplicity and transparency improves verification and auditability. We were delighted to work with RGU via the Knowledge Transfer Partnership programme to develop this software. Cost-effective and efficient hydrocarbon behaviour modelling is crucial to the oil and gas industry, especially in today's cost-reduction climate. CHARM delivers both."
"Use of general purpose process simulation packages often presents a number of issues, such as their level of complexity, lack of software integration, and requirement for software updates which can result in slightly altered results. CHARM offers greater integration, speed and ease of use compared to traditional approaches. The system essentially bridges a gap: it provides the same accuracy as comprehensive process simulation, but can be more readily integrated into existing allocation software systems and vendor products. We hope it will replace conventional systems and usher in a new chapter for hydrocarbon accounting," continues Stockton.
Professor John McCall, from RGU, says, "We are delighted to have been able to contribute our expertise in smart data analytics components to developing this exciting product with Accord. Our research is at its most valuable when it has direct impact in real-world applications."