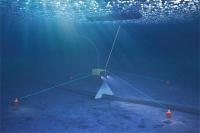 The third generation of Kongsberg Maritime's de facto industry standard High Precision Acoustic Positioning and Navigation System – HiPAP, is now available. Smaller, lighter, more durable and accurate than ever, HiPAP 502 sets new standards for subsea position reference systems. It is designed to support the performance and safety of offshore support, survey, subsea construction and scientific vessel operations.
HiPAP 502 is the latest in a long line of High Precision Acoustic Positioning Systems from Kongsberg Maritime. Simrad, a Kongsberg Maritime brand introduced the first HiPAP 500 in 1996 and the Second generation (HiPAP 501) was released as a Kongsberg Maritime product in 2007. Now in 2015 the third generation is released with major advances.
The new HiPAP 502 specifications deliver 100% better angle accuracy, with improved range capability to 5000m. Angle accuracy is essential in SSBL (or USBL) positioning; the HiPAP 502 has an accuracy of 0.06 degrees vs the 0.12 degrees of the HiPAP 501.