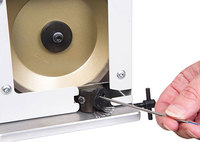 Ensuring a tungsten electrode is sharpened correctly can help to improve weld quality. Tungsten electrode grinders are a convenient, safer and more accurate way than other methods of grinding tungsten electrodes.
Back by popular demand, Huntingdon Fusion Techniques HFT® have re-initiated the manufacturing of the TEG-2 Tungsten Electrode Grinder, which was retired from their product range a number of years ago.
It has an updated design with a number of improvements and the model name is now the TEG-1000.
Georgia Gascoyne, CEO says, "Since we stopped manufacturing the TEG-2 Tungsten Electrode Grinder, we've had many requests to bring it back into our product range. We are excited to announce that it's back, with a new modern look and attractive price."
The use of the TEG-1000 Grinder will give repeatable tungsten electrode points every time, enabling consistent repeatable arc performance and welding results. Diameters 1.0 to 3.2 mm can be ground as standard, with other sizes catered for with standard accessories available as extras.
Savings can be achieved because of the increased life of properly ground tungsten electrodes. With the special collet accessory, shorter tungsten electrodes can be held, significantly increasing the length of life of each tungsten electrode before it is discarded.
TIG welding requires tungsten electrodes to have perfectly ground and polished tips. HFT®'s TEG-1000 provides these, time after time, to exactly the same size and shape. The diamond wheel grinds the Tungsten Electrodes longitudinally, preventing arc flicker or wander caused by circumferential lines or ridges found on electrodes, which have been ground incorrectly.
With tungsten electrodes ground and polished, mechanised welding can produce identical, repeatable results every time. With manual welding, the shape of the Tungsten Electrode is just as important. With a correctly shaped tip, the arc can be precisely positioned with none of the preferential arcing experienced when using poorly shaped manually ground tips.