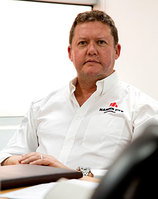 Nigel Hopkins has been appointed Managing Director of Harris Pye UK Ltd based at the company's headquarters in Llandow in Wales. He joined Harris Pye on 1st May this year working alongside Dave Hayden, the company's retiring Managing Director at the Harris Pye UK headquarters in Llandow, South Wales before officially taking over from Dave Hayden on 1st October 2017.
Nigel Hopkins started his engineering career in the merchant navy spending 13 years sailing on a variety of vessels including oil tankers, gas tankers and cruise ships working for companies including BP, Mobil, and Cunard Line eventually qualifying and sailing as Chief Engineer, something to which other senior Harris Pye team members can also lay claim.
He then made a career move into the offshore oil and gas industry where he spent the following 20 years and was involved with new builds, conversions and upgrade projects of both floating and fixed platforms for global companies including ConocoPhillips, Bluewater Energy and BW Offshore. He was primarily involved with the commissioning and start-up phases. Based in the Far East for the past 15 years, since 2007 he was Technical Director at offshore oil and gas project management and completions specialised company, Tecnomar & Associates Pte Ltd, the company he founded with his brother Paul Hopkins.
"I am very much enjoying the challenge of joining a rapidly expanding global engineering group, having worked closely with Harris Pye when Tecnomar signed an MOU with them in early 2016," explains Nigel Hopkins.
"Harris Pye's diverse range of projects includes marine and offshore engineering, areas I know well; and land based industrial sectors such as the biomass industry, combined heat & power, and nuclear power station projects. I am on a fascinating learning curve and relished working alongside Dave Hayden who has such wealth of engineering experience and knowledge. I look forward to playing an active role in the company's expansion for many years to come, helping to develop technically innovative and cost effective solutions for clients worldwide."
"Nigel's reputation and track record speak for themselves; we are delighted that he has joined us. He worked alongside Dave Hayden for five months and that the handover went extremely smoothly," says the Harris Pye Group's Chief Executive, Mark Prendergast.
"Naturally we are sad to have bid Dave Hayden farewell; he has been with us in two stints (1999-2002 and 2004-2017) amounting to 16 years, but as he was part of the 2007 management buyout team, there will still be strong links, as he is a shareholder in the business. We thank him for his commitment to the group and wish him and his wife well in his retirement."