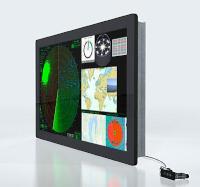 Hatteland Display, global provider of display and computer solutions for professional maritime use, has introduced a new Series X 55-inch Ultra High Definition (4K) console mounted Multi Vision Display (MVD) designed to support Integrated Bridge System (IBS), ECDIS and marine technology sytems integrators in developing new concepts and solutions for the smart ships of today and the future.
Using the pinnacle of new maritime display technology from Hatteland Display, previously only available for wall-mounting or configured as an innovative chart & planning table, the new Series X 55-inch Ultra High Definition console mounted MVD is designed to enable quick and easy integration in any IBS design. As a large-format solution, it provides the screen size needed to integrate diverse data in a single display, enabling technology manufacturers to combine multiple ship systems into a single user-interface.
The new Series X 55-inch Ultra High Definition console mounted MVD, which is fully tested and ready to order now,is the largest 4K display available for console mounting within advanced Integrated Bridge Systems. Its 4K resolution provides pixel perfect clarity, ensuring that multiple data types can be viewed under all conditions. As one of the most technically advanced maritime displays ever developed, it delivers the sharpest and clearest image quality, with unmatched brightness and contrast.
The system will become a key component of future-focused smart ship technology, playing a critical role in improving operational safety and efficiency at sea. In addition to acting as a multi-data display for bridge systems, Hatteland Display has designed the new Series X 55-inch Ultra High Definition console mounted MVDas a flexible solution, suitable for a wide range of applications including ECDIS, radar and voyage planning systems.
Hardware features include Touch Screen operation, multi-data input, built in On-Screen Display (OSD) and uniquely for a console mounted solution, an external remote control panel which can be mounted seperately, for operation of the OSD and other parameters. It also features optical bonding for strength and safety as standard, and ECDIS callibration as an option.
"Large format 4K displays are meeting a growing demand from the maritime technology community for screen technology that enables enhanced user-interface designs for new smart ship bridge systems," says Trond K. Johannessen, President and CEO, Hatteland Display. "The new Series X 55-inch Ultra High Definition console mounted MVD expands our flagship 4K range even further. It uses the same advanced, but proven panel technology in our Type Approved Series X 55-inch Ultra High Definition Chart & Planning Table, ensuring unmatched image quality and high reliability."