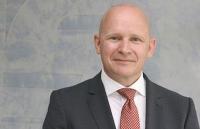 As of September 2016, Hans Laheij will take over as Vice President Sales & Marketing at SCHOTTEL GmbH, assuming the responsibilities of Dr Jens-Erk Bartels, who is retiring.
Hans Laheij has extensive experience and expertise in the area of ship propulsion. After earning a degree in Business Administration in the Netherlands, he began his career with Lips BV in the Asia/Pacific region. Upon his return to the Netherlands and following the takeover by Finnish competitor Wärtsilä, he steadily took on greater responsibilities: assuming a management position in Singapore in 2005 and, as of 2011, serving in Shanghai as Area Sales Director for the Middle East & Asia region.
"Hans Laheij has distinguished himself through a high level of expertise, extensive knowledge of one of our most important target markets and his intercultural background. We are pleased to have recruited him as Vice President of Sales & Marketing in order to continue expanding global sales," says CEO Dr Christian Strahberger. Hans Laheij, a Dutchman, will perform his duties at SCHOTTEL headquarters in Spray/Rhein.