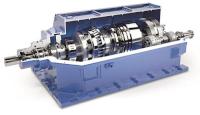 The Vorecon variable speed planetary gear from Voith provides speed control with maximum reliability and low life cycle costs (LCC) in the oil and gas industry. With the new NX series, Voith has now further developed the proven principle specifically for applications in the low power range up to 10 MW. The Vorecon NX provides an increase in efficiency of up to 8% in part load. Additionally, it impresses with an attractive price, low total costs of ownership (TCO) and well-known reliability.
The Vorecon is used throughout the entire value-added chain of the oil and gas industry, controlling the speed in upstream, mid-stream and downstream applications. With the new Vorecon NX Voith is strengthening this portfolio in the area of pipeline compressors. In the new series, an optimised torque converter provides efficient speed control. In accordance with the proven Vorecon superimposing principle, this uses only a small part of the input power. Depending on the speed required, this power is fed back to the driveline by way of the planetary gear on the driven side. Adjustable pump blades in the torque converter provide the control – stepless and wear-free.
In the Vorecon NX a helical gear on the output side adapts the output speed to the compressor. This allows a modular design with a standardised speed control system. As a result, Voith can provide components faster and reduces the future delivery time of the new Vorecon to only 6 months.
Within the Vorecon portfolio, the NX series covers power ranges up to 10 MW. Like the entire product family, the new type also has an integrated working and lubrication oil system. This system fills the torque converter and supplies its own gearbox, the drive motor and the driven machine with lubrication oil in parallel.
The Vorecon controls the speed of compressors and pumps. The lifetime of the hydrodynamically controlled planetary gear is several decades. With its statistical reliability of 99.98% and a mean time between failure of 48 years, it avoids unscheduled downtime of the drive system and the associated costs.