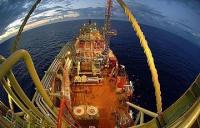 Petrobras announces that well 9-SPS-77, in Sapinhoá Field, in the Santos Basin Pre-Salt, went on stream last Tuesday, February 18th, 2014 at 5:15 pm. This well, which produces 33 thousand barrels per day (bpd), is interconnected to FPSO Cidade de São Paulo through a pioneering system. In this system, the ascending section of the production pipelines is supported by a submerged buoy, anchored in the seabed and floating at a depth of 240 meters. The well is located at a water depth of 2,118 meters.
In this position, the buoy, known as Buoyancy Supported Risers – BSR, is immune to the movements of the platform. This innovative concept enables the use, in some parts of the project, of rigid steel pipes (Steel Catenary Risers – SCRs) at ultra deep waters.
The buoy, which measures 40 x 52 meters and weighs 1,936 tons, is attached to the seabed by means of eight steel tendons of 1,828 meters each, connected to four stakes fixed in the seabed.