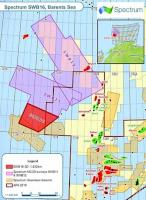 Spectrum has begun acquisition of a 1,800 km2 Multi-Client 3D seismic survey offshore Norway in the Western Barents Sea.
The new survey, designed based on interest from industry will tie and complement Spectrum's existing 3D surveys in the area. When completed the combined coverage will total close to 20,000 km2 over prospective and potential 24th Round acreage.
Data is being acquired with 10 x 8,000 meter streamer offsets to record data necessary to understand the basins architecture as well as to better image the prospective zones within the Palaeocene-Eocene and Jurassic-Cretaceous as well as the Late Cretaceous marine sands. The data will be processed by Spectrum and a broadband fast-track volume will be available during Q1 2017 to allow early participating clients to commence their initial interpretation and prospect screening. The final PreSTM Broadband dataset and offset volumes will be available during Q2 2017, ahead of the 24th Norwegian licensing round in 2017.
The survey is acquired in partnership with BGP.