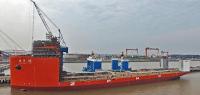 ZPMC-OTL Marine Contractor Ltd. (ZOMC) has announced that the Zhen Hua 33 was successfully launched at ZPMC's Nantong Fabrication Facility.
Zhen Hua 33 is the newest, most technologically advanced, and highest capacity self-propelled float-over vessel in the world. With a free deck area is 185 x 43 metres, Zhen Hua 33 is the longest vessel in its class and is constructed with a reinforced stern. The fully removable aft casings make the vessel an ideal choice for transportation of heavy modules and spars requiring a stern loadout.
The vessel is also equipped to submerge 13.5 metres for loading and discharge of deeper draft drilling rigs and floating production facilities. A Kongsberg DP-II system is fully integrated with two tunnel thrusters at the bow and three fully-revolving main azimuth thrusters at the stern. With 19,000 kW of power, the vessel is expected to transit at a speeds up to 14 knots.
The vessel is currently on schedule to be delivered in the fourth quarter of this year.